Kindness is the language which the deaf can hear and the blind can see.
Kindness is the gift that keeps on giving because it tends to be paid forward.
Submit your personal story or favorite illustration, quote, Bible verse, etc. that illustrates a specific virtue to [email protected], then click on the virtue of your choice on the Virtues page to see your story or the stories and illustrations of others.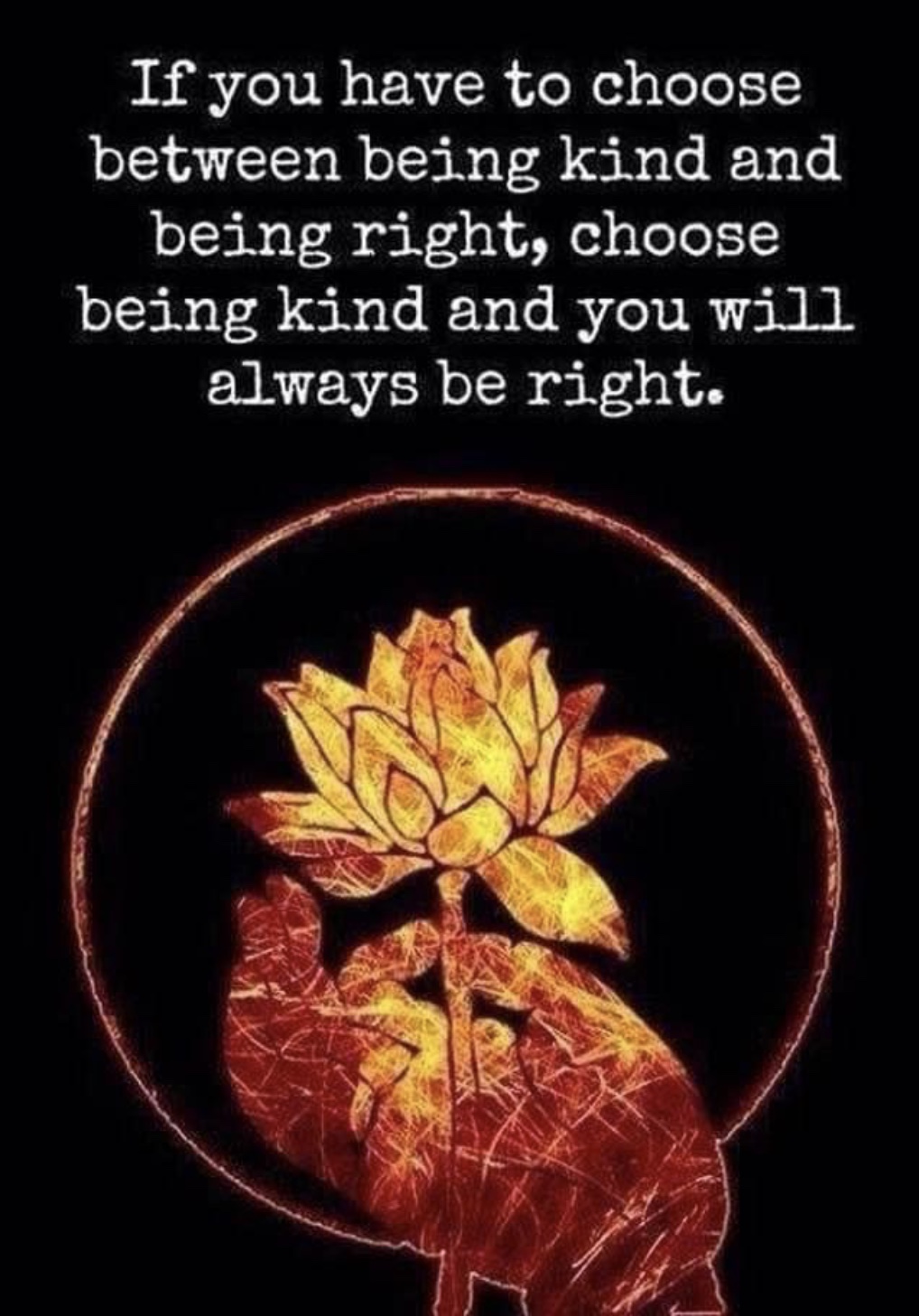 October 8, 2021, Posted on Facebook by Myron Musick
August 19, 2021,
Submitted by Wendy Bolender:
"Be kind whenever possible.  It is always possible. "
    — Dalai Lama
June 7, 2021
My wife Julee and I were recently on a road trip through the Utah canyon-lands. We pulled into Moab, UT in the afternoon, too early to check into our camping spot, so we decided to scout out a coffee shop for the next morning. I am unapologetically a coffee snob…picky, picky, picky! At 3:01 PM we opened the door to the Moab Garage Coffee shop; they were closed as of 3:00 PM. But the owner/manager, Erin Bird, graciously visited with us, offering suggestions for the next day (they would be closed,) and apologizing for the fact that she wouldn't be there to fix us our favorite coffee drinks. Then she walked over to where the bagged beans were displayed for sale, grabbed a delicious smelling full bag of beans, and handed them to me! I protested, but she said, "No, I want to give you these; maybe you can find a way to grind them and have a great cup of coffee in the morning."
Erin's kindness and generosity touched me deeply; I haven't been able to stop thinking about it. She had absolutely nothing to gain by giving away a $16 dollar bag of beans to a complete stranger, a tourist who was not even a regular customer. She wouldn't let me pay her for the coffee, but I vowed to myself that I would somehow pay that "random act of kindness" forward. And I recently sent an email to Erin (found by googling Moab Garage Coffee) expressing my deep gratitude and how much I was blessed by her gift. May that blessing return to her a hundred-fold.
July 20, 2021
My first "real" job after university was driving a bread truck for Seattle baking company Gai's Bakery. It was hard work but an enjoyable job, delivering bread and other baked goods to restaurants, schools, hospitals…and grocery stores.
One of my customers was "Market Foods" on the Olympia waterfront. I truly enjoyed most all my customers, chatting with them, getting to know them, and occasionally trading "goodies with them," a box of donuts for a sandwich, for example.
But Market Foods was a different story! You have to understand that a bread-man is always in a hurry. Many customers want their baked product early in the day so they have fresh bread to sell to their customers, or fresh rolls to make their sandwiches with to sell. I don't know about other delivery men, but I RAN through my route in order to stay on time. 
I would load my rolling bread rack with trays of bread, rolls, buns, etc and wheel it into Market Foods early in the morning while the store was still closed. There would be only one person working there at that time– the manager, who we will call "Oscar."  Oscar had to "check me in." Count the product I was charging him for, before I could put it on the shelf. And Oscar would always be up in his office, busy with…office work? I guess. And he would make me wait. I would be down below his office, chomping at the bit to get checked in so I could get out of there and on down the line. Minutes would go by…they seemed like hours to me. Finally Oscar would come down the stairs out of his office to check me in. At first I would greet him, with some sort of "good morning" greeting. He would either grunt something unintelligible, or say nothing at all. After a while, I just gave up and didn't say anything to him. 
My other gripe with Oscar was the shelf space he gave me. I worked on commission, so the more product I sold, the more money I made. You sold more product when you had two things: Quantity and quality of shelf space. I had neither at Market Foods! In fact I had the worst and the least shelf space of all the bread companies. Oscar obviously hated me for some unknown reason, and I didn't like him very much either!
I was a high school youth leader at our local community church at that time, and at one of the youth meetings, I spoke to the kids on "Ministering in an Opposite Spirit." In others words, do unto others as you wish they would do unto you…NOT as they actually do unto you!   Rats!!! Now I had to go practice what I had just preached.
So I did. I went into Market Foods the next morning and really went overboard; "Good morning Oscar old buddy, how are you today!?! Got any plans for the weekend? My family and I are going to"…. You get the picture. Oscar just looked at me like I was crazy, but I didn't give up. Five days a week, I jabbered at Oscar like I was his best friend. 
In one part of the book "Little Book of Virtues," I suggest that we have to sometimes "practice" the virtue before we ever start to "feel" the virtue. I practiced "Kindness" on Oscar. And the funniest thing happened; I started to feel it. I started to notice how Oscar was at work very early in the morning until late into the evening, six days a week. I began to realize how competitive the grocery business was. I learned how short-handed with not enough staff and help Oscar was. And I felt empathy, compassion, and a desire to be kind to Oscar.
As the weeks went by, Oscar began to "warm up" to me. He started checking me in just as soon as I came through the door with my bread. I gradually got moved up in regard to shelf space until I had the prime eye-level shelves. And Oscar eventually told me I could have all the shelf space I wanted, "as long as you keep it filled up," which benefited both of us. 
My bread-man competitors were totally freaking out!  "How come you get my old shelf space?" "How come he checks you right in but makes me wait?" "How come he's letting you put up in-aisle displays for Thanksgiving when he won't let any of us do that?"
Oscar truly did become my friend, and returned my kindness to him ten-fold. When I gave up my bread-man job to move on to a new adventure, there were plenty of things I wouldn't miss: long hours, arriving for work at 4 AM, odd days off, and so on. But I would miss Oscar. God bless him.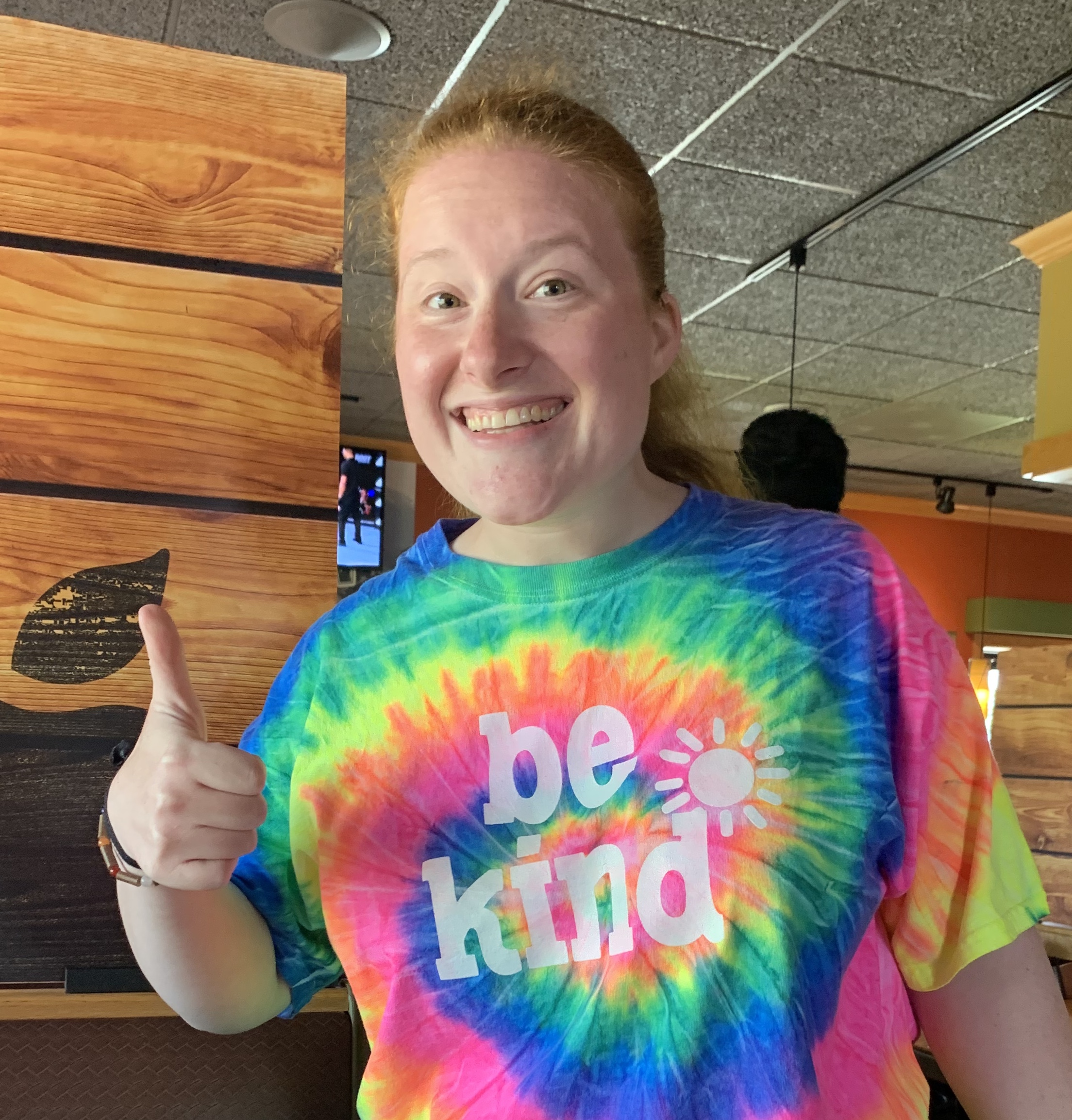 One of the kindest people I know, Stacey Hacker