In everything I've done, I have demonstrated to you how necessary it is to work on behalf of the weak and not exploit them. You'll not likely go wrong here if you keep remembering that our Master said, "You're far happier giving than getting."
Generosity isn't found in the amount of money you give; it is found in the one seeking to give his or her all.
Submit your personal story or favorite illustration, quote, Bible verse, etc. that illustrates a specific virtue to [email protected], then click on the virtue of your choice on the Virtues page to see your story or the stories and illustrations of others.
June 26, 2021
Giving brings happiness at every stage of its expression. We experience joy in forming the intention to be generous; we experience joy in the actual act of giving something; and we experience joy in remembering the fact that we have given. — Siddhārtha Gautama, The Buddha 
June 26, 2021
Exclusive: The Billionaire Who Wanted To Die Broke . . . Is Now Officially Broke
"It took decades, but Chuck Feeney, the former billionaire cofounder of retail giant Duty Free Shoppers has finally given all his money away to charity. He has nothing left now—and he couldn't be happier. 
Charles "Chuck" Feeney, 89, who cofounded airport retailer Duty Free Shoppers with Robert Miller in 1960, amassed billions while living a life of monklike frugality. As a philanthropist, he pioneered the idea of Giving While Living—spending most of your fortune on big, hands-on charity bets instead of funding a foundation upon death. Since you can't take it with you—why not give it all away, have control of where it goes and see the results with your own eyes? 
"We learned a lot. We would do some things differently, but I am very satisfied. I feel very good about completing this on my watch," Feeney tells Forbes. "My thanks to all who joined us on this journey. And to those wondering about Giving While Living: Try it, you'll like it." 
Over the last four decades, Feeney has donated more than $8 billion to charities, universities and foundations worldwide through his foundation, the Atlantic Philanthropies. When I first met him in 2012, he estimated he had set aside about $2 million for his and his wife's retirement. In other words, he's given away 375,000% more money than his current net worth. And he gave it away anonymously. While many wealthy philanthropists enlist an army of publicists to trumpet their donations, Feeney went to great lengths to keep his gifts secret. Because of his clandestine, globe-trotting philanthropy campaign, Forbes called him the  James Bond of Philanthropy. 
But Feeney has come in from the cold. The man who amassed a fortune selling luxury goods to tourists, and later launched private equity powerhouse General Atlantic, lives in an apartment in San Francisco that has the austerity of a freshman dorm room. When I visited a few years ago, inkjet-printed photos of friends and family hung from the walls over a plain, wooden table. On the table sat a small Lucite plaque that read: "Congratulations to Chuck Feeney for $8 billion of philanthropic giving."
That's Feeney—understated profile, oversize impact. No longer a secret, his extreme charity and big-bet grants have won over the most influential entrepreneurs and philanthropists. His stark generosity and gutsy investments influenced Bill Gates and Warren Buffett when they launched the Giving Pledge in 2010—an aggressive campaign to convince the world's wealthiest to give away at least half their fortunes before their deaths. "Chuck was a cornerstone in terms of inspiration for the Giving Pledge," says Warren Buffett. "He's a model for us all. It's going to take me 12 years after my death to get done what he's doing within his lifetime."  
Feeney gave big money to big problems—whether bringing peace to Northern Ireland, modernizing Vietnam's health care system, or spending $350 million to turn New York's long-neglected Roosevelt Island into a technology hub. He didn't wait to grant gifts after death or set up a legacy fund that annually tosses pennies at a $10 problem. He hunted for causes where he can have a dramatic impact and went all-in. 
In 2019, I worked with the Atlantic Philanthropies on a report titled Zero Is the Hero, which summarized Feeney's decades of go-for-broke giving. While it contains hundreds of numbers, stats and data points, Feeney summarized his mission in a few sentences. "I see little reason to delay giving when so much good can be achieved through supporting worthwhile causes. Besides, it's a lot more fun to give while you live than give while you're dead." 
On September 14, 2020, Feeney completed his four-decade mission and signed the documents to shutter the Atlantic Philanthropies. The ceremony, which happened over Zoom with the Atlantic Philanthropies' board, included video messages from Bill Gates and former California Gov. Jerry Brown. Speaker of the House Nancy Pelosi sent an official letter from the U.S. Congress thanking Feeney for his work. 
At its height, the Atlantic Philanthropies had 300-plus employees and ten global offices across seven time zones. The specific closure date was set years ago as part of his long-term plan to make high-risk, high-impact donations by setting a hard deadline to give away all his money and close shop. The 2020 expiration date added urgency and discipline. It gave the Atlantic Philanthropies the time to document its history, reflect on wins and losses and create a strategy for other institutions to follow. As Feeney told me in 2019: "Our giving is based on the opportunities, not a plan to stay in business for a long time."  
While his philanthropy is out of business, its influence reverberates worldwide thanks to its big bets on health, science, education and social action. Where did $8 billion go? Feeney gave $3.7 billion to education, including nearly $1 billion to his alma mater, Cornell, which he attended on the G.I. Bill. More than $870 million went to human rights and social change, like $62 million in grants to abolish the death penalty in the U.S. and $76 million for grassroots campaigns supporting the passage of Obamacare. He gave more than $700 million in gifts to health ranging from a $270 million grant to improve public healthcare in Vietnam to a $176 million gift to the Global Brain Health Institute at the University of California, San Francisco.  
One of Feeney's final gifts, $350 million for Cornell to build a technology campus on New York City's Roosevelt Island, is a classic example of his giving philosophy. While notoriously frugal in his own life, Feeney was ready to spend big and go for broke when the value and potential impact outweighed the risk." 
June 23, 2021
The following story by Diane Rayner has long been a favorite of mine, to be shared with family or friends around Christmas time. It illustrates so well how you don't have to be rich to be generous, but being generous enriches you and those around you:
AN EXCHANGE OF GIFTS Diane Rayner (2004)
 I grew up believing that Christmas was a time when strange and wonderful things happened; when wise and royal visitors came riding, when at midnight in the barnyard, animals talked to one another, and in the light of a fabulous star, God came down to us as a baby. 
Christmas to me has always been a time of enchantment, and never more so than the year when my son Marty was eight. That was the year that my children and I moved into a cozy trailer home in a forested area just outside of Redmond, Washington. 
As the holidays approached, our spirits were light, unhampered even by the winter rains that swept down Puget Sound, dousing our home and making our floors muddy. Throughout that December, Marty had been the most spirited, and busiest of us all. He was my youngest; a cheerful boy, blond-haired and playful, with a quaint habit of looking up at you and cocking his head like a puppy when you talked to him. 
Actually, the reason for this was that Marty was deaf in his left ear, but it was a condition which he never complained about. 
For weeks, I had been watching Marty. I knew that something was going on with him that he was not telling me about. I saw how eagerly he made his bed, took out the trash, carefully set the table and helped Rick and Pam prepare dinner before I got home from work. I saw how he silently collected his tiny allowance and tucked it away, not spending a cent of it. I had no idea what all this quiet activity was about, but I suspected that somehow it something to do with Kenny. 
Kenny was Marty's friend, and ever since they found each other in the springtime, they were seldom apart. If you called to one, you got them both. Their world was in a meadow, a pasture broken by a small winding stream, where the boys caught frogs and snakes, where they searched for arrowheads or hidden treasure, or where they would spend an afternoon feeding squirrels peanuts. 
Times were hard for our little family, and we had scrimped and saved to get by. With my job as a meat wrapper and with a lot of ingenuity around the house, we were much better off than Kenny's family. They were desperately poor, and his mother struggled to feed and clothe her 
two children. They were a good, solid family. But Kenny's mom was a proud woman, very proud, and she had strict rules. 
How we worked, as we did each year, to make our home festive for the holiday! Ours was a handcrafted Christmas of gifts hidden away and ornaments strung about the place. Marty and Kenny would sometimes sit still at the table long enough to help make cornucopias or weave little baskets for the tree. But then, in a flash, one whispered to the other, and they would be out the door and sliding cautiously under the electric fence into the horse pasture that separated our home from 
Kenny's. 
One night, shortly before Christmas, when my hands were deep in Peppernoder dough, shaping tiny nut-like Danish cookies heavily spiced with cinnamon, Marty came to me and said in a tone mixed with pleasure and pride, "Mom, I've bought Kenny a Christmas present. Want to see 
it?" So that's what he's been up to, I said to myself. "It's something he's wanted for a long, long time, Mom." After wiping his hands on a dish towel carefully, he pulled from his pocket a small 
box. Lifting the lid, I gazed at the pocket compass that my son had been saving all those allowances to buy. A little compass to point an eight-year-old adventurer through the woods. 
"It's a lovely gift, Martin," I said, but even as I spoke, a disturbing thought came to mind: I knew how Kenny's mother felt about their poverty. They could barely afford to exchange gifts among 
themselves, and giving presents to others was out of the question. I was sure that Kenny's proud mother would not permit her son to receive something that he could not return in kind. Gently, carefully, I talked over the problem with Marty. He understood what I was saying. 
"I know, Mom, I know! But what if it was a secret? What if they never found out who gave it?" I didn't know how to answer him. I just didn't know. 
The day before Christmas was rainy and cold and gray. The three kids and I all but fell over one another as we elbowed our way about our little home, putting finishing touches on Christmas secrets and preparing for family and friends who would be dropping by. Night came. The rain continued. I looked out the window over the sink and felt an odd sadness. How mundane the rain seemed for a Christmas Eve! 
Would wise and royal men come riding on such a night? I doubted it. 
It seemed to me that strange and wonderful things happened only on clear nights, nights when one could at least see a star in the heavens. 
I turned from the window, and as I checked on the ham and bread warming in the oven, I saw Marty slip out the door. He wore his coat over his pajamas, and he clutched a tiny, colorfully wrapped box in his hand. Down through the soggy pasture he went, then a quick slide under the electric fence and across the yard to Kenny's house. Up the steps on tiptoe, shoes squishing, he opened the screen door just a crack; placed the gift on the doorstep, took a deep breath, and reached for the doorbell, and pressed on it hard. 
Quickly Marty turned, ran down the steps and across the yard in a wild effort to get away unnoticed. Then, suddenly, he banged into the electric fence. The shock sent him reeling. He lay stunned on the wet ground. His body quivered and he gasped for breath. Then slowly, weakly, confused and frightened, he began the grueling trip back home. 
"Marty," we cried as he stumbled through the door, "what happened?" 
His lower lip quivered, his eyes brimmed. "I forgot about the fence, and it knocked me down!" I hugged his muddy little body to me. He was still dazed and there was a red mark blistering on his face from his mouth to his ear. Quickly I treated the blister and, with a warm cup of cocoa, Marty's bright spirits returned. I tucked him into bed and just before he fell asleep, he looked up at me and said, "Mom, Kenny didn't see me. I'm sure he didn't see me." 
That Christmas Eve I went to bed unhappy and puzzled. It seemed such a cruel thing to happen to a little boy on the purest kind of Christmas mission — doing what the Lord wants us to do — giving to 
others — and giving in secret at that. I did not sleep well that night. Somewhere deep inside I think I must have been feeling the disappointment that the night of Christmas had come and it had been 
just an ordinary, problem-filled night, no mysterious enchantment at all. However, I was wrong. 
By morning the rain had stopped and the sun shone. The streak on Marty's face was very red, but I could tell that the burn was not serious. We opened our presents, and soon, not unexpectedly, Kenny was knocking on the door, eager to show Marty his new compass and tell about the mystery of its arrival. It was plain that Kenny didn't suspect Marty at all, and while the two of them talked, Marty just smiled and smiled. Then I noticed that while the two boys were comparing their Christmases, nodding, gesturing and chattering away, Marty was not cocking his head. While Kenny was talking, Marty seemed to be listening with his deaf ear. 
Weeks later, a report came from the school nurse, verifying what Marty and I already knew. "Marty now has complete hearing in both ears." 
The mystery of how Marty regained his hearing, and still has it, remains just that — a mystery. Doctors suspect, of course, that the shock from the electric fence was somehow responsible. Perhaps so. Whatever the reason, I just remained thankful to God for the good exchange of gifts made that night. 
So you see, strange and wonderful things still happen on the night of our Lord's birth. And one does not have to have a clear night either, to follow a fabulous star.
May 17, 2021:  This photo speaks to me of another kind of generosity, a generosity of spirit that reaches across generations, gender and disabilities.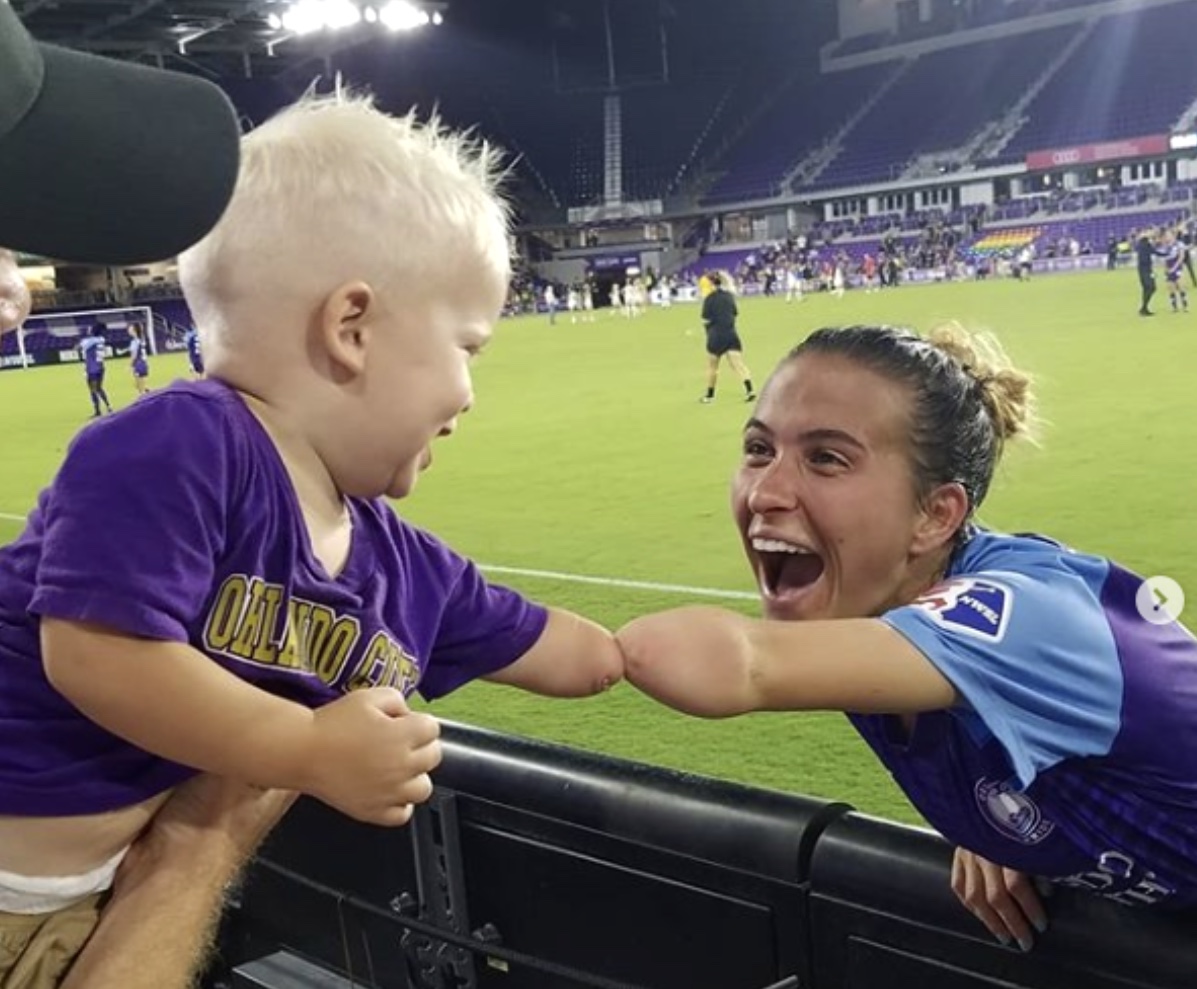 May 22, 2021
Many of us connect "generosity" with someone who gives away money. Danielle Shroyer writes so beautifully about the virtue of generosity that is so much more. You can follow Danielle at www.beasoulninja.com
The first of the ten paramitas is generosity, and it's considered the foundation of all the other qualities. Generosity requires an openness to others, and without this basic posture of openness, we are very limited in our growth. The Pali and Sanskrit word for generosity is dana. It can be compared to the Latin word caritas and the Arabic word zakat, one of the four pillars of Islam. Both of these words are most often translated as charity, but they communicate the kind of care and consideration for others that is central to the practice of dana. This generosity is freely given, whether it's time, money, material goods, a listening ear, or a smile. It is given without expectation or need for return, or even acknowledgment. In this way, dana is the practice of selflessness.
Selflessness is one way we practice living into the truth that we are all connected. It is the act of taking ego out of the equation. By ego, I mean that sense of self-righteousness that often comes along for the ride when we are generous. We would like to be acknowledged for this very good thing we did! But when this happens, we haven't moved entirely into the realm of generosity. There is still too much "me" and "you" in it. True generosity comes when we realize it's just us, all of us, and we allow what is needed to move freely in such a way that de-centers the boundaries between us. (If we want to go even farther, we can also say it's the realization that all is one, and there isn't even an "us!")
One of the reasons we practice generosity is to become aware of our attachments. For me, these past two weeks, it has been humbling to realize how much I'm attached to things reflexively that I don't actually care that much about. Why am I grasping? Where does that need for clinging come from? So generosity becomes the practice of living in the mindset of abundance, and refusing to allow the ghosts of scarcity to elicit fear within us. That fear makes us miserly and unkind. And it's also lying to us. The world is brimming with abundance.
On a deeper level, though, we also begin to realize that one of our strongest attachments is to the idea of separateness, of you vs. me, us vs. them. This kind of scarcity doesn't just make us miserly; it sends us to war, to violence, to outrage. This kind of scarcity is deeply destructive. It may seem simplistic to believe that a smile or bringing food to a friend or volunteering a few hours of your time has any chance against the monsters of destruction, but when we look at moments and seasons of transformation that have happened in the darkest places, it has always begun with small gestures of generosity. It has been someone in a concentration camp sharing bread. It has been a nurse tending to one sick body after the next in a time of crisis. It has been a leader like Nelson Mandela who is so committed to love that he is able to offer it to his oppressors through a smile.
I can feel overwhelmed when I think of the power of those acts and the humility and lack of skill with which I'm practicing generosity in my own life. But it also reminds me that generosity is so worth it. Generosity comes from the same root as generation, and both words describe a creative force. Generosity is a creative force for good in a world too often marred by violence and evil. Every time we practice even the smallest act of generosity, we send love into the earth's equation. 
Here is what is really beautiful, too: because we are all connected, when we practice generosity, we also receive it. The openness and kindness we extend to others also becomes more present within us. And because we experience it, we can continue to share it. Abundance indeed.